Medical School Admissions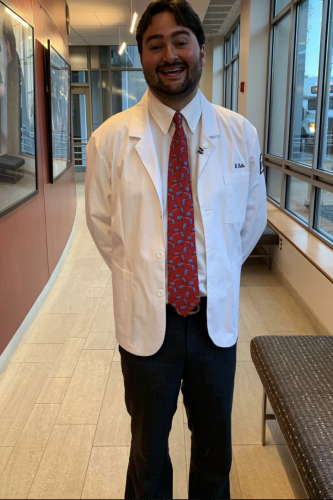 Benjamin Gallo Marin MD'23
Growing up in Nicaragua, Ben Gallo saw firsthand the shortcomings of his country's health care system. He dreamed of studying medicine in the US and collaborating with physicians back home, so they wouldn't fail future patients as they had his dad and abuelita. 
"I want to be part of the forefront of medicine and research," Ben says. "The potential that holds for the people of my country who don't have the privilege to pursue education in the United States is enormous."
Ben studied molecular biology at Princeton and, after completing a post-baccalaureate at the University of Pennsylvania, applied to US medical schools. "I chose Brown because the Medical School's culture—to prepare us to revolutionize medicine through a thesis of social justice and equity—was extremely appealing to me," he says.
Ben is devoted to giving back. During the COVID-19 shutdown he volunteered his language skills to translate health information into Spanish for local patients and the latest journal articles for physicians in Nicaragua, and collected and distributed smart devices to help isolated nursing home residents stay in touch with loved ones. He also co-founded F-1 Doctors, a volunteer mentorship platform where he supports other international students through the arduous US med school admissions process. 
His research activities reflect his mission of equity and access. He's an Emerging Infectious Diseases Scholar and he's pursuing a research internship in Global Emergency Medicine and a Scholarly Concentration in Caring for Underserved Communities. 
"I see all of this as an enormous social responsibility," Ben says of studying medicine at Brown. "It's rewarding to be given the tools to have a local impact while also lending a hand to the people of Latin America."