Medical School Admissions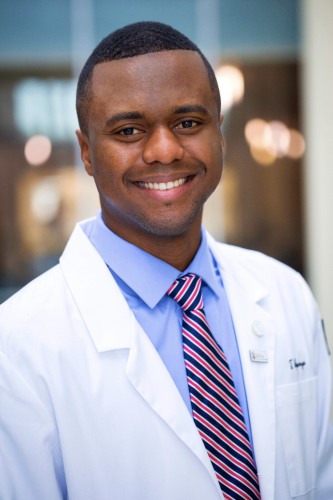 Tsikata Apenyo describes his accent as "an eclectic combination of drawls from Maryland's Chesapeake shores, Mississippi's delta, Los Angeles' beaches, the forests of the Pacific Northwest, and Ghana's history of English colonialism." But even as he moved around, one constant in his life was medicine.
From the physicians and pharmacists in his family to the health care struggles of his Mississippi neighbors, Tsikata saw from an early age how he could make a difference in people's lives. He became an EMT, and volunteered at a crisis hotline at the University of Portland, where he studied biology and chemistry and joined ROTC. 
After graduating he moved to China, where he taught English as a Fulbright fellow. The experience gave him new insights into his future career. "Recognizing patterns in human behavior and developing relationships are central to both teaching and medicine," he says.
Tsikata enthusiastically embraced The Warren Alpert Medical School's many opportunities, like volunteering for the Student National Medical Association and Rhode Island Free Clinic, co-leading preclinical electives, and doing cardiology research. He also responded to COVID-19 with the Rhode Island National Guard and continues to play intramural sports.
Now a commissioned officer, Tsikata says military service is a way to give back to his country and his fellow soldiers; he aspires to a role in governmental public health. "I see health policy as the greatest way I can make a lasting impact," he says.